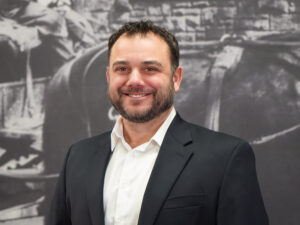 Background and Experience:
My background in the construction industry is civil engineering design, surveying, GPS, 3D modeling, and the implementation of GPS in the field. My focus areas at Park are making sure that the field has accurate 3D models that are used in machines and rovers for their specific project to improve efficiency. I also provide training and support for GPS equipment and earthwork takeoff software.
What are you proud of at Park?
I am proud of how our field builds our projects to match our 3D Machine models.  It is really satisfying to build a model and then go out to a site and see that it looks exactly like it was built in the computer.  I am also really proud of how well of a job our team did when paving the inside of US Bank Stadium – it could not have turned out any better.
Hobbies:
Hunting, fishing, camping, and coaching my kids in youth sports.
Education and Licensure:
Bachelor Degree, Civil Engineering, University of Minnesota Twin Cities
Registered Professional Engineer, Minnesota and North Dakota